Angels in Tropical Shirts ~ Tribute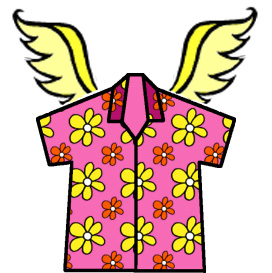 Most Everyone knows about the Blue Angels, Guardian Angels, Earth Angels and a Choir of Angels… Charlie's Angels, the City of Angels, Angels in the Outfield and Johnny Angel. They have Dirty Faces and their own Cake! Hell, there are even Hell's Angels.
But I just wanted Everyone to Know about the Angels I've come Across since being a member of this Organization…
They come in all Shapes & Sizes, live in everything from quadruple digit Homes to Single room Apartments.. some Even have to Live on their Boats (poor babies!), some have big Fancy soundin' Job titles, some are Retired, some are Lookin' for a job!
But they All share some Things in Common:
They are the Guardians of Hope & Wonder, the Keepers of Magic & Dreams… they Paint with Sound and Sing with Color and if Perchance they Can't read the Music… they Wing it!!!
Thank You to those Angels in Tropical Shirts…. You Soar with Amazing Grace!
Anonymous Angel
Life is one long process of learning how to earn your wings. Do your best to be someone who graduates with flying colors.
Connie Gray's Addendum:
South Region – You are all angels and do us all proud! Be an angel today and participate in this fantastic event! Help memorialize those dear, dear friends that we've lost and celebrate the victories of those who have beat that damn demon cancer! Earn your wings if you haven't already. Be a part of this fantastic celebration. Let's go do some good things to help others!
Hugs n kisses. Each of you mean so much to me.